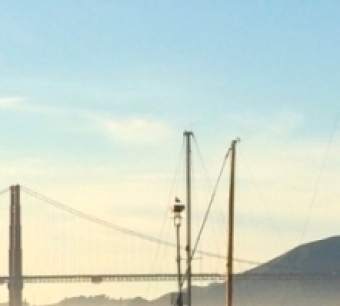 One of the many wonderful things about living here in Northern California, besides the spectacular winter weather, is an abundance of world-class wine and food events. This past Valentine's Day weekend featured the Masters and Makers Wine event at a beautiful luxury resort: the Meritage Resort and Spa in Napa Valley. The epicurean affair offered delights of healthy fresh farm-to-fork meals, prepared by experts and paired with the sumptuous fine wines for which Napa and Sonoma wineries are renowned. These offerings were further enhanced by the presence of interesting devotees with whom this weekend was shared. So be sure to mark your calendars for next year's Masters and Makers Wine event because it is bound to gain popularity and prestige over the coming years.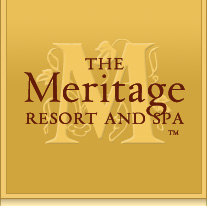 Across the bay, On Valentine's Day, the International San Francisco Chronicle Wine Competition celebrated the many spectacular vintages and wineries found throughout Northern California, national wine regions and other nations. Of special mention was a small winery named Pezzi King that shared the coveted red wine Sweepstakes Wine Award with their 2012 Estate Zinfandel, Dry Creek Valley, Row 14 Reserve, priced at $50.00. The award was shared with Sonoma-Cutrer's 2012 Pinot Noir, Founders Reserve, Russian River Valley at $65.00. The wine region of the Livermore Valley continues to shine with Wente Vineyards leading the way. Wente Vineyards took a Best of Class award for their 2013 Livermore Valley Morning Fog Chardonnay. This wine exemplifies the harmonious balance of fruit, minerality, acid, terroir and time that testifies to the fine wine making artistry of Karl Wente. Enjoy this lovely wine for $15.00 or less. For a complete list of wine awards go to: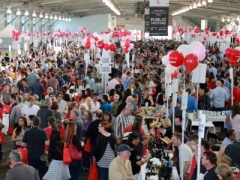 http://winejudging.com/2015/01/09/announcing-the-2015-san-francisco-chronicle-wine-competition-sweepstake-winners/
This Thursday, February 19, 2015, the 63rd annual Pacific Orchid Exposition Gala Benefit at Fort Mason Center's Festival Pavilion in San Francisco benefited one of the Bay Area's most well known horticultural institutions: the U.C Botanical Garden at Berkeley. The Gala Benefit gave attendees the first chance to browse and purchase gorgeous orchids before the show opened to the general public. In addition, delicious hors d'oeuvres were served along with tastings from California's premier wineries. The Pacific Orchid show continues throughout this weekend. For more information, go here: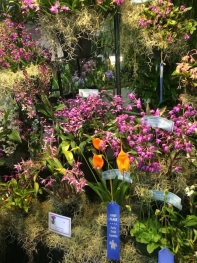 http://www.eventbrite.com/e/2015-pacific-orchid-exposition-the-thrill-of-discovery-thur-219-630-10-pm-fri-220-sun-222-10-5-pm-tickets-12481363093?ref=ebtn
Looking forward to this weekend, you might attend the Ninth Annual Dark and Delicious Petite Syrah wine event celebrates this varietal. This event features 52 renowned California wineries who will showcase their Petite Syrah wines.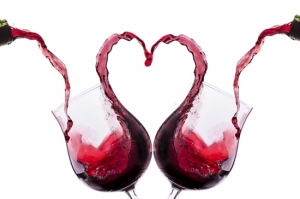 Nine (9) different and delicious cuisines from local restaurants and celebrity chefs will be served to the lucky attendees. The event will be held at Rock Wall Winery in Alameda, California. Visit SignatureWines.com 's special events calendar for a limited number of specially priced tickets for this event as well as other upcoming wine events. It is wise to act quickly if you want to save money and attend these food and wine events. Go here for more information: https://www.eventbrite.com/e/9th-annual-dark-and-delicious-wine-event-tickets-15683312209?ref=ecal . Check back frequently at SignatureWines.com because we continue to add wonderful wine events every week.
Looking ahead, consider attending Fenestra winery's Chocolate and Cabernet Weekend Wine Event this coming March 7th and 8th at their historic winery in the Livermore Valley. Local chefs will create sweet and savory chocolate dishes, which will be paired with a wide variety of Fenestra Wines. Experience these dishes and collect their recipes, then bring home perfectly paired wines to delight your friends and family at your future dinner parties.
Get your tickets here: https://www.eventbrite.com/e/limited-quantity-of-specially-priced-tickets-to-fenestra-winerys-chocolate-and-cabernet-weekend-tickets-15849261568 Wishing you the very best of everything and always be responsible and arrange a designated driver.