Share your latest culinary adventures by creating new restaurant listings, share your reviews or read our editors and critics reviews. Tired of paying corkage fees? Become a Signature Wines VIP Card Holder.

Read More +

Discover the best wine values; learn about different wine regions; plan your wine country get-away or check out local wine bars! Explore wine-tasting with a friend at many wineries on a complimentary basis.

Read More +

Wine and Food... Be in the know! Find out about the best wine events. Enjoy one-of-a-kind experiences and make new friends. SignatureWines.com offers some of the coolest programs and features!

Read More +
Why the Purple Boot Blind Wine Tasting Event?
To me an event represents a celebration of our shared community. What better time for us to come together and socialize than an event with amazing food, wine and friends? Events offer fun, discovery and new social and professional opportunities that we just cannot get by sitting at home or through the virtual world of the Internet.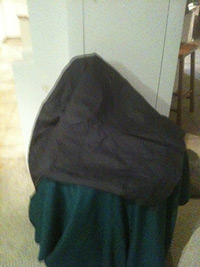 Purple Boot Trophy
To be revealed at the event!The importance of gathering together to share in celebration with other people cannot be underestimated. We share stories and experiences and create new memories. The "Battle of the Purple Boot Trophy" shares the passion and hard work of two diverse wine regions, the Livermore Valley and the Santa Cruz Mountains. Eight different vintners have submitted their very best wines to be enjoyed and rated by current strangers and soon to be friends.
A genuine piece of Art, commissioned by SignatureWines.com and designed and created through the hands of world-renowned glass artist, Mr. Treg Silkwood of Silkwoodglass.com and the Bay Area Glass Institute. The Purple Boot Trophy serves as a symbol of inspiration and gratitude honoring the hard work of our participating wineries.
This event would not have been possible without the countless hours of my fellow SignatureWines.com teammates, staff from Club Sport, generous sponsors. Below is a picture of the "Purple Boot Trophy and individual awards.
Get you ticket and be the first to see the Purple Boot Trophy. Go here to get you tickets here now! http://www.eventbrite.com/myevent?eid=3328594917
Trackback URL for this blog entry.