Chef Justin Perez
mikeyjwang
March 26, 2013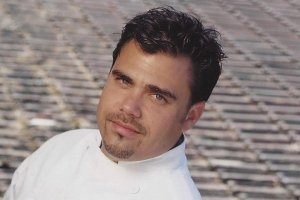 A Sunnyvale native, Chef Justin Perez spent many hours in the family kitchen with his mother, who is of Sicilian descent. His passion for food led him to attend the California Culinary Academy, where he graduated with honors.
His innate gift of pairing wines with dishes has garnered him worldwide attention. Chef Perez has competed nine times in the Professional Wine Society of Santa Clara Valley's highly exclusive Purple Foot competition. He is also a multiple time winner of the coveted Purple Foot itself. Most proudly, Chef Perez has been invited three times to cook at the world famous James Beard Foundation house. The James Beard Foundation is one of the most recognized culinary foundations in the world.
In addition to all his awards and attention, Chef Perez has used his culinary knowledge to teach around the world. Locally, he has led classes at Sur La Table, Purcell Murray and Draeggers. In 2004, Chef Perez gave a presentation at "The Special Event" in Las Vegas, Nevada called "Trends In International Catering". "The Special Event" is America's premier event industry trade show and educational conference. Chef Perez has also taught cooking in Mykonos, Greece and Hong Kong. He was also invited by The US Meat Federation to tour and teach across all of China. Recently opening his new restaurant, Justin's, Chef Perez hopes to once again showcase his talents to the Santa Clara Valley.
"To me, food is art. It is something beautiful, satisfying and challenging. It is something to be treasured and remembered." -Justin Perez
Map
User reviews
There are no user reviews for this listing.