Wednesdays, at Signaturewines.com, will be devoted to discussing various wine reviews while also attempting to empirically describe and rate the wines we review. We intend to engage in these reviews in an unbiased and objective fashion. Since we believe that wine expresses itself much like art, where it is said that beauty lies in the eyes of the beholder, so we must recognize that like art, the beauty and intrigue of a particular wine lies, after all, in the "Palate of the Taster".
"Empiricism" is defined as a theory of communicating knowledge primarily from measurable sensory experiences. So, how then are wines "rated" in an empirical fashion?

Applying empirical methodologies upon subjective experiences like our human sensory experience of evaluating wine can assist us in describing the experience to others without their need to taste that particular wine themselves in order for them to form an expectation of the particular experience prior to the reality of their experience. We shall therefore seek to describe a wine in terms of objective measurements so as to convey both the real and qualitative characteristics of a wine-tasting experience.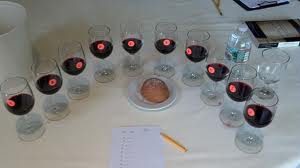 This article will discuss one of the earliest wine rating systems established in the United States. This was a "point scale system" established in 1959 at the University of California, Davis, by Dr. Maynard A. Amerine. Dr. Amerine (1911-1998) is revered as the pre-eminent Professor of Enology, who, along with his staff, created a 20-point system that was used as a guide to describe and rank the large number of experimental wines that were being produced at the university.
Dr. Amerine's system, commonly referred to as "The Davis System" assigns a certain number of points to each of ten distinct categories. These points are then totaled to obtain an overall score for a particular wine.
...
Continue reading