Ric Ewing
Tuesday, 25 June 2013 21:09
As a SignatureWines.com VIP Cardholder, you get rewarded for exploring. Your subscription allows you to discover wine at any of our member wineries for FREE once a month. Plus, you get to bring your discoveries in to enjoy at any of our member restaurants with NO corkage fee. Oh, and did we mention you get to bring a friend?
Only $99 for a year's use.

Save on Tasting Fees
Regardless of your subscription plan, your SignatureWines.com VIP Card allows you, the subscriber and one guest to receive a complimentary wine tasting at any of our member wineries all over the world once each month. As you know, wine tasting fees can add up, so your subscription quickly pays for itself no matter which option you choose.
Save on Corkage
Taste, enjoy and purchase your favorite wine discoveries and then dine at one of our member restaurants and receive a complimentary corkage fee for one meal once per month. (A maximum of two bottles per party).
Contact Us to suggest a restaurant you would like to see in our program!
Save on Travel
As a SignatureWines.com VIP, you love to discover new wines, winemakers, varietals, and good eats - and you aren't afraid to travel to do so. As a SignatureWines.com VIP cardholder, we are constantly adding more benefits to our program to save you money on your travels, and point you in the right direction so you know the best places to wine, dine, stay, and meet new friends, no matter where your explorations may take you…
SignatureWines.com VIP Benefits
Complimentary Wine Tastings
you +1 guest may enjoy 1 free wine tasting at any of our member wineries once per month
Complimentary Corkage Fees
bring your discoveries in to enjoy for free at our member restaurants
SignatureWines.com Social Community
connect with a rich, vibrant online community of fellow wine lovers who share finds, resources & much more
Attend Wine-Centric Events
exclusive invitations to wine parties, special events and one of a kind experiences
Travel Savings
exclusive savings on travel and accommodations
Only $99
card is valid for one year from the date of purchase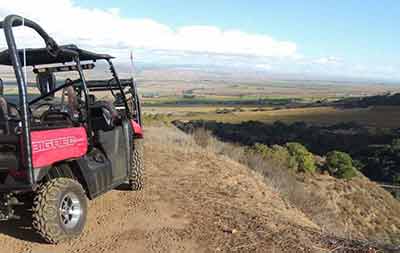 Become a SignatureWines.com VIP member before Oct 31st, and you'll receive a Winery Estate ATV Tour & Tasting for Two ($90 value). Enjoy a private ATV safari through the vineyards of Hahn Estate and an educational winery tour with a member of their Hospitality team. Experience the spectacular view at the upper reaches of the Estate before visiting the wine cellar, where the wines quietly age. Finish your tour enjoying a Reserve Tasting in their VIP room.
To receive your complimentary gift certificate (expires 03/31/14) for a Hahn ATV Tour & Tasting, select "buy now," below and log into your SignatureWines.com account, and enter promo code and coupon code HAHNATVTOUR at check out (before Oct. 31st). Then call Hahn Winery to book your adventure!

As you know, wine tasting and corkage fees add up so your subscription quickly pays for itself, and the experiences you'll have as a VIP member will be priceless. As you are discovering new favorite wines with your VIP privileges throughout the year, SignatureWines.com is exploring, with our partner wineries and restaurants, new incentives for all our wine lover friends. We are also continuously partnering with more wineries and restaurants to give our members the best wine experiences offered in the Bay Area and beyond! Check our website often for a complete list of current participating wineries and restaurants .
A Thrilling and Unforgettable Wine Tour Experience
Recently, I was invited to experience an ATV adventure at Hahn Estates in the Santa Lucia Highlands, overlooking the breathtaking Salinas Valley. I consider myself an adventurous person; consequently I jumped at the opportunity.

In German, "Hahn" means rooster and for this reason a rooster adorns each bottle of Hahn Wines, honoring the Hahn family's European heritage. Grown on over 1000 acres in Monterey County, the diverse vineyards of Hahn Estate make up some of the best Pinot Noir, Chardonnay and Syrah plantings in the region. The distinctive qualities of the vineyards coupled with the sunny days and foggy nights helps to create wines of depth and complexity.

The safari began on the ATV, we sped through the vineyards to our first stop- a behind the scenes tour of the barrel room and cellar operations. We sampled newly harvested grape juice straight from the barrels and learned about the fermentation process. We continued up the mountain where we were met with vineyards as far as the eyes can see. The estate educator revealed in great detail the entire wine making process as we picked grapes directly from the vines and sampled each grape variety.

We returned to their stylish tasting room, and received a private tasting in their VIP room. As we sipped on the Hahn's delectable wine selection we reflected on the day's activities. For a thrilling and unforgettable wine tour experience, look no further than the Estate ATV Adventure at Hahn Estate in the Santa Lucia Highlands.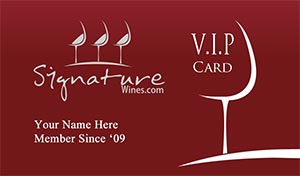 Wine to me is passion. It's family and friends. It's warmth of heart and generosity of spirit. Wine is art. It's culture. It's the essence of civilization and the art of living. ~ Robert Mondavi
Thursday, 16 June 2011 19:09
Signaturewines.com Online Privacy Statement
Introduction
At Signaturewines.com, we are dedicated to protecting your privacy and safeguarding your personally identifiable information. Signaturewines.com's mission is to consistently exceed our users' expectations in terms of the products and services we provide to our users. We strive to create an experience that is responsive to our users' needs by using the information you entrust us with responsibly. Signaturewines.com is committed to respecting your privacy and adhering to the principles of applicable data protection and privacy laws throughout the world.
We have provided this Privacy Statement as an explanation of the information we collect, how we use it, and how the use of this information can benefit your experience on our web sites and during your relationship with us. We wish to help you make informed decisions, so please take a moment to read the sections below.
TYPES OF INFORMATION WE COLLECT:
Signaturewines.com collects information about our users and visitors to our web sites so that we can provide an experience that is responsive to our users' and visitors' needs. Information may be collected as part of: (i) fulfilling reservation or information requests, (ii) purchasing products, (iii) registering for program membership, (iv) submitting a job application, or (v) responding to communications from us (e.g., surveys, promotional offers, or reservation confirmations). We endeavor to collect information only with your knowledge and with your permission if necessary. The types of personally identifiable information that we collect may include your name, home, work and e-mail addresses, telephone and fax numbers, credit card information, date of birth, gender, and lifestyle information such as wine preferences, leisure activities, names and ages of children, and other information necessary to fulfill special requests.
Signaturewines.com may also collect non-personally identifiable information about you, such as your use of our web sites, communication preferences, travel habits, aggregated data relative to your visits, and responses to promotional offers and surveys.
PURPOSE FOR COLLECTION, PROCESSING, AND DISCLOSURE:
Collection & Use
Signaturewines.com is fully committed to providing you with information about the collection and use of personally identifiable information (PII) furnished by, or collected from, visitors while using our web sites, products and services. It is our practice not to ask you for information unless we need it or intend to use it. Some of the primary purposes for collecting your PII are as follows:
providing services such as processing a transaction (e.g., making a reservation, fulfilling a request for information, or completing a product order)
marketing and communications with you in relation to the products and services offered by Signaturewines.com, our strategic marketing partners, and other trusted third parties
performing market research via surveys to better serve your needs, improve the effectiveness of our web sites, your wine tasting or dining experience, our various types of communications, advertising campaigns, and/or promotional activities
You will always be offered the choice not to submit your PII or to decide what communications you want to receive from us. However, doing so may cause certain transactions to become affected. For example, not providing a name will prevent the processing of reservations.
Processing and Disclosure
In most cases, the information you provide is added to a local or global database. In the course of processing your information, it may be necessary to transfer your PII to Signaturewines.com's affiliates, properties within the Signaturewines.com system and/or third party service providers located in the United States and throughout the world for the purposes outlined within this Privacy Statement. As a general practice, Signaturewines.com does not sell, rent, or give physical possession of your PII to unaffiliated third parties outside the Signaturewines.com system. Situations in which Signaturewines.com may disclose your information to others include:
when we have received your consent to do so
in situations where sharing or disclosing your information is required in order to offer you products or services you desire (e.g., a wine vacation package)
when companies or services providers that perform business activities on behalf of Signaturewines.com require such information (e.g., credit card processing, customer support services, market research administration or database management services)
when a supplier or other affiliate leaves the Signaturewines.com system and access to your PII is necessary to facilitate business operations or meet contractual obligations
in the event Signaturewines.com is merged or acquired by another company
to comply with legal or regulatory requirements or obligations in accordance with applicable law or court order
in case of emergency such as to safeguard the life, health, or property of an individual
If information is shared as mentioned above, we seek to limit the scope of information that is furnished to the amount necessary for the performance of the specific function. Unless otherwise precluded by legal process, we require third parties to protect your PII and abide by applicable privacy laws and regulations.
CONSENT:
As part of our commitment to keep you informed, we may mail, e-mail, telephone, or contact you by other means to notify you of new Signaturewines.com products and services, or upcoming Signaturewines.com special offers, events, enhancements, or other relevant information that may be of interest to you. You may also receive mailings or other communications from carefully selected third parties. We always offer you the option to decline any or all of these communications by following the directions included in our e-mails or other communications, or by contacting Signaturewines.com directly.
We would like to keep all of our users and visitors informed and equally able to take advantage of the benefits offered by Signaturewines.com and its strategic marketing partners. However, if you reside outside of the United States, certain data privacy regulations may require us to obtain your permission before we send you information that you have not requested from us.
In some cases your permission will be implied from the nature of the service requested or transaction undertaken. For example, Signaturewines.com may collect and use personally identifiable information that you volunteer, or behavioral data or information collected in the aggregate. In addition, your permission will be deemed given for communications from us that are necessary to fulfill transactions and services that you request.
In certain circumstances, we will seek your express permission when we collect information that is regarded under certain data privacy regulations to be sensitive in nature (e.g., information revealing racial or ethnic origin, political opinions, or health conditions).
ACCESS TO PERSONALLY IDENTIFIABLE INFORMATION:
To ensure that your personally identifiable information (PII) is accurate and up to date, we encourage you to regularly review and update your information as appropriate (e.g., in the event your home or e-mail address changes, or you wish to add an additional method for us to communicate with you). Please note that in an effort to prevent the unauthorized disclosure of your PII, you may be asked to provide proof of identity (or other authentication materials) together with the completed access request form. Access to PII cannot be provided by telephone.
If, upon review, or update your PII, we will endeavor to do so in a timely manner. Occasionally, information that you request to be removed will be retained in certain files for a period of time in order to properly resolve disputes or to troubleshoot problems. In addition, some types of information may be stored indefinitely on "back up" systems or within log files due to technical constraints, or financial or legal requirements. Therefore, you should not always expect that all of your PII will be completely removed from our databases in response to your request.
SECURITY SAFEGUARDS:
Signaturewines.com recognizes the importance of information security, and is constantly reviewing and enhancing our technical, physical, and logical security rules and procedures. All Signaturewines.com owned web sites and servers have security measures in place to help protect your personally identifiable information against loss, misuse, and alteration while under our control. Although "guaranteed security" does not exist either on or off the Internet, we safeguard your information using both procedural and technical safeguards, including password controls, "firewalls" and the use of up to 128-bit encryption based on a Class 3 Digital Certificate issued by VeriSign, Inc. This allows for the use of Secure Sockets Layer (SSL), an encryption method used to help protect your data from interception and hacking while in transit.
ON-LINE TECHNOLOGIES:
Signaturewines.com may use cookies, invisible pixels, and web beacons to obtain information about you while visiting our web sites. A cookie is a very small text file that is sent to your browser from a web server and stored on your computer's hard drive. It assigns the computer with a unique identifier, which in turn, becomes your identification card whenever you return to a Signaturewines.com web site.
Cookies are designed to save you time because they help us to provide you with a customized experience without you having to remind us of your preferences each time you return to our web pages. Signaturewines.com cookies are not designed to damage your files, nor can they read information from other files on your computer hard drive.
Cookies can also help us provide you with a personalized on-line experience in the following ways:
they remember your user name and password for future visits so log-in is easier and faster
they ensure you are provided with the appropriate frames and content
they ensure you obtain all requested information
they help us deliver communications that are relevant and responsive to your interests and location
Signaturewines.com cookies are limited to our web sites only, and are not designed to follow you when traveling on the Internet after leaving Signaturewines.com owned web sites. We track the usage of our web sites in order to better meet your needs and to help make it easier for you to find information in the future. Please note that in addition to Signaturewines.com cookies, various third parties may also place cookies on your computer's hard drive. Signaturewines.com is not responsible for the presence or absence of third party cookies, or for the technological capabilities or practices employed by third parties in connection with third party cookies.
If you would prefer not to have the benefits of cookies, your Internet browser can be adjusted to treat cookies in different ways. Depending upon the type of browser you are using, you may be able to configure your browser so that: (i) you are prompted to accept or reject cookies on an individual basis or (ii) you may be able to prevent your browser from accepting any cookies at all. You should refer to the supplier or manufacturer of your web browser for specific details about cookie security. However, you should also understand that rejecting cookies might affect your ability to perform certain transactions on our web sites and our ability to recognize your browser from one visit to the next.
Signaturewines.com also uses invisible pixels, sometimes called web beacons, to count how many people visit certain web pages. Information collected from invisible pixels is used and reported in the aggregate and does not contain personally identifiable information. Signaturewines.com may use this information to improve marketing programs and content.
LINKS TO OTHER WEB SITES:
In order to anticipate your needs, Signaturewines.com provides links to other web sites for your convenience and information. Signaturewines.com is not responsible or liable for any content presented by or contained on any independent web site, including, but not limited to, any advertising claims or marketing practices. Please note that while Signaturewines.com will protect your information on Signaturewines.com owned and operated web sites, we cannot control and will not be responsible for the privacy policies of third party web sites, including web sites owned or controlled by independent franchisees, third party owners of hotel, resort, winery, restaurant that may use the name of a Signaturewines.com brand, or web sites not controlled or authorized by Signaturewines.com. Third party web sites that are accessed through links on our web sites have separate privacy and data collection practices, and security measures. We have no responsibility or liability for the practices, policies and security measures implemented by third parties on their web sites. We encourage you to contact them to ask questions about their privacy practices, policies and security measures before disclosing any personally identifiable information. We recommend that you review the privacy statements and policies of linked web sites to understand how those web sites collect, use and store information.
MINORS:
Signaturewines.com does not seek to obtain nor does it wish to receive personally identifiable information directly from minors; however, we cannot always determine the age of persons who access and use our web sites. If a minor (as defined by applicable law) provides us with his/her data without parental or guardian consent, we encourage the parent or guardian to contact us to have this information removed and to unsubscribe the minor from future Signaturewines.com marketing communications.
MISCELLANEOUS:
In some cases, we may choose to buy or sell assets, and, in that event, your information may be transferred to or acquired by a third party. If that happens, you agree that the third party may continue to use your information as set forth in this policy.
California Civil Code Section 1798.83 permits customers of Signaturewines.com. who are California residents to request certain information regarding its disclosure of personal information to third parties for their direct marketing purposes. To make such a request, or if you have any other questions regarding our Privacy Policy, please send an e-mail to This email address is being protected from spambots. You need JavaScript enabled to view it.
CONTACT US:
If you would like to update your information, modify your communication preferences, or if you do not want to receive marketing communications from Signaturewines.com in the future, you can contact us:
by e-mail:
This email address is being protected from spambots. You need JavaScript enabled to view it.
by telephone:
1-510-575-9463
by fax:
1-408-872-4485
by writing to us at:
Signaturewines.com
15466 Los Gatos Blvd. #109-35
Los Gatos, Ca. 95032
USA
UPDATES TO THE PRIVACY STATEMENT:
Signaturewines.com may amend this Privacy Statement from time to time in order to meet changes in the regulatory environment, business needs, or to satisfy the needs of our users, properties, strategic marketing partners, and service providers. Updated versions will be posted to our web site and date stamped so that you are always aware of when the Privacy Statement was last updated.
Revised: June 20, 2011