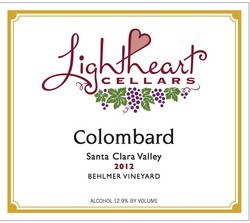 Colombard is one of those wine varietals that isn't talked about a whole lot. It's not a familiar grape to most Americans, and there are only two wineries in California that even produce a Colombard wine! Having tasted the Lightheart Cellars release, though, that small production and relative anonymity should change immediately!
Colombard, as a wine, is not something I have tasted a lot of, so it's hard for me to judge this wine against the hallmarks of the varietal. I can only go off of what I've read about its normal characteristics. In the case of a wine I'm not familiar with, I'll always check out what Karen MacNeil says in The Wine Bible, which is my go-to tome for studying wine basics. Seriously, my copy that I bought used for $6 on Amazon is so full of highlights and notes and notecards that I studied for my sommelier exam, it's a miracle the thing still holds together. However, Colombard doesn't even appear in the pages! We have to go to the Oxford Companion to Wine or Jancis Robinson's Complete Guide to the varietals to find information on the grape. Or, you could take a shortcut and go to Wikipedia. All that will tell you, though, is that Colombard is used as a structure-lending blending wine in California, has dry and sweet variations, and has a nice natural acidity.
While that's helpful, it's WAY more fun to drink the wine than dwell on my lack of knowledge about the grape!
I had this wine with my boyfriend and his housemates during their housemate meeting the other night, and it was great to hear their comments on it mirror my own thoughts. It has a gorgeous acidity (as Wikipedia promised) as well as great Honeycrisp apple and heather flavors. The body is rich and reflective of the deep goldenrod color, but that acidity and light sweetness allow it to stay refreshing instead of bogging you down. There's a reason California producers use this wine to lend structure to their Chardonnays--it's rich and textured, without making the wine a chore to drink.
My favorite comment, though, was from my friend Ross, who is more of a beer and whiskey kind of guy. We both loved the wine's pronounced smokiness. It was so cool to see a white wine mirror Scotch characteristics while maintaining its "wine-ness" that it brought the whole experience to another level. The smokiness coupled well with the honey and heather to make such a decadent and refreshing glass that we were sad to see the bottle empty.
...