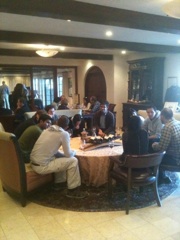 We like to have fun and we think you do, too. And what better way to create great memories than discovering great experiences to enjoy with friends, old and new?
For example, last weekend many of our SignatureWines.com VIP Cardholders exercised their invitations to attend the "Cars & Cabernet" event held at Grgich Hills Estate Winery in Napa, California. Grgich Hills Estate Winery became famous when its Chardonnay was selected the best white wine in the world at the "Paris Tasting" of 1976! Since then Grgich Hills has consistently produced world-class wines that are enjoyed the world over.
SignatureWines.com VIP Cardholders enjoyed three preview tastings of Grgich Hills Carbernets in the Grgich Hills VIP lounge on a complimentary basis. Just one of the many perks and pleasures offered to our SignatureWines.com VIP cardholders.

The weather was spectacular this past weekend, so in addition to enjoying great wines, it was a fine day for guests to examine many of the best luxury vehicles the world has to offer including the spectacular Mclaren pictured below.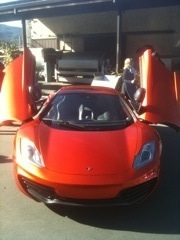 If you missed this event, don't worry, but do keep your heads up for new events that are coming your way: This Saturday and Sunday spend the afternoon at Fenestra Winery's soup and wine event known as the "Souper Bowl"! There will be delicious wines to sample and an offering of delectable gourmet soups prepared by top local chefs. A brilliant way to wind up for the Super Bowl! Take home some of the best Livermore Valley wine values for your upcoming Super Bowl parties. Purchase your tickets in advance and receive a special gift from SignatureWines.com at the event by clicking on this link: http://fenestrasoupwine12612.eventbrite.com/?ref=ecal#
Fenesta Winery offers an authentic wine country tasting experience that is just a 45-minute drive from most Bay Area locations. Fenestra Winery was established by the Replogle family on the 
historic Ruby Hill property and in 1980 the family moved to the century-old George True Winery building on Vallecitos Road. An informal tasting area is located inside the winery, where you can sip and sample, surrounded by cases
 of wine and oak barrels. A creek and vineyards edge the picnic area with its lovely lawn. The ambiance is that of a true country winery where the owners greet every visitor as a welcome guest.
After the event enjoy dinner at one of the fine restaurants that the Tri-Valley area has to offer. We highly recommend El Sacromonte located in Livermore, Handles located in Pleasanton or Incontro Ristorante located in Danville.
SignatureWines.com VIP cardholders receive a $10.00 discount off the cost for attending this event. Simply check-in at the SignatureWines.com table to receive your special pricing and gift. Learn more about the SignatureWines.com VIP Cardholder program by selecting this link below:
http://www.signaturewines.com/wine-vip
Please take a moment to review the wineries you visit, right here, on SignatureWines.com. We look forward to seeing you. Soups on!