An Italian proverb states; "Old wine and friends improve with age."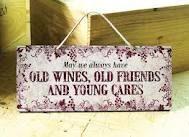 Is it wine tastes better with friends or friends are better with wine?
Friendships give us a healthy sense of community. After all, we are communal beings. We rely upon each other to both thrive and survive. I call this "surthrival". Every day we interact in some manner with each other directly or indirectly. Even in finding solitutde, it is near impossible not to experience the hand of another fellow humans efforts being present in our life's experiences. Wine reinforces this concept. Fine wine like good art and poetry is carefully crafted both by nature and mankind. Fine wine enhances our abilities to socialize, sympathize and celebrate our lives together. Wine provides a common experience throughout many of our most memorable shared experiences.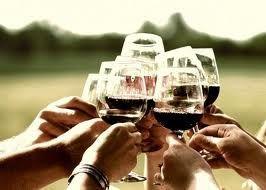 Recently, a new friend shared with me an interesting adage that opened my mind to contemplate a new way for me to appreciate the wines I taste. My new friend, Nick Liang, a very talented Sommelier shared this insight in reference to the aging of a wine. Many wines available are wines that are only three to four years old. Nick shared the wine adage in the form of a question, "what kind of conversation does one tend to have with a three or four year old?"
The wine Nick and I shared that afternoon was marvelous. It was a 2008 Steven Kent Lineage. An amazingly delicious and well balanced Bordeaux blend that begged for a sumptuous juicy roast duck or fillet Mignon. Nick proceeded to outline how he would age this marvelous wine. First, Nick plans on purchasing a couple cases of Steven Kent Lineage for himself. He plans to open a bottle every year for the first four or five years. Nick will then wait 8 years and open a bottle or two of Steven Kent Lineage each year after that to determine how this wine matured. I hope on some of those occasions that Nick will invite me to dinner. In this busy busy society and culture of ours how rare it is to find friends. Friends like wines are in themselves treasures. Our experiences with many friends highlight our life's journey and even though time steadily passes, our friendships grow more valuable and dear to us. Good wines are similar and for those of us with the patience to let our wines mature, we may be treated to possible treasures. Treasures that can be shared with our family and friends.
Take a moment and join the SignatureWines.com community, attend some of the many events SignatureWines.com organizes and/or promotes. Share your wine and culinary adventures through posting your reviews. Make new friends and celebrate with current ones in a friendly and spirited wine community we call SignatureWines.com.