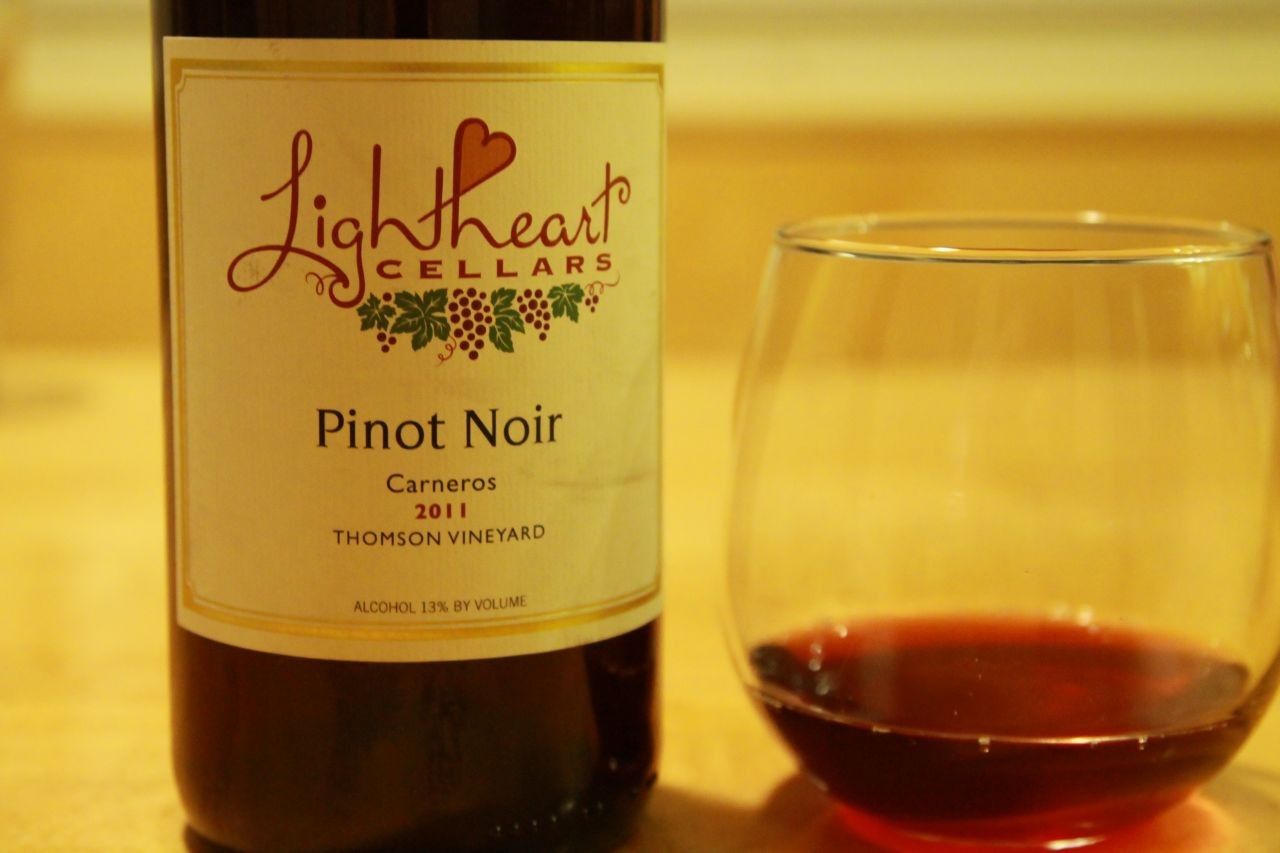 Last night, I had my second chance to taste Lightheart Cellars' 2011 Carneros Pinot Noir. I'm going to keep this review (and all my wine reviews) simple, since I think the best way for anyone to learn about wine is to drink it themselves, not read about what others thought!
This wine is from a "rough" vintage in California, though you'd never know it judging by this wine. The color is light orange-red. not as pink as most California pinot noir, and there's a hint of cloudiness to the liquid (which you can see in the photo). It has a lot of blood orange, raspberry jam, and cherry jelly to the nose--there's a lot of interplay of tartness and fruitiness here, which I find really refreshing. I'm a huge fan of acidic wines (if it feels like it's going to burn a hole in my tongue, I want more!) but this is nicely tempered with the bold fruit. There's a hint of toasty vanilla and rye bread, which is surprisingly strong on the nose, considering that the wine was aged in neutral French oak. A little bit of smokiness and salinity add depth to the wine and speak to the Thompson Vineyard in Carneros, where the grapes were grown.
I enjoyed a glass of this sans food, which was quite enjoyable. This wine shines without the need of a dish to complement its flavors, but would also be great with a salad with some bitter or acidic elements, such as goat cheese, arugula, or pomegranate seeds. Because of its light body and great acidity, this is not a pinot you want to serve with salmon or white chocolate (two classic pinot noir pairings), but it would be great with tilapia and mango salsa or lots of lemon juice.
Lightheart Cellars is a great example of a small-production winery--I attended their Holiday Party a couple months ago, and got to taste through their portfolio of wine, mead, and cider! The tasting room is wonderful, and I'd highly recommend a visit; there's a great likelihood that you'll meet the winery managers and winemakers, and the entire experience is delicious!
For more information on Lightheart Cellars, please visit their website at www.lightheartcellars.com.
...