Domenico Winery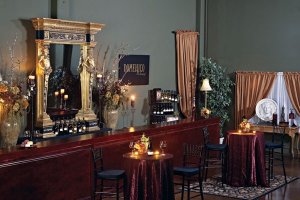 A secret escape from the fast paced life of the greater bay area. Unassuming from the outside, you will discover a delightful tasting experience behind the beautiful large winery doors.
Dominick and Gloria Chirichillo's choice of name for their winery is a reflection of their commitment to their Italian heritage and the tradition of family winemaking. In 1955 in New York, Dominick who is called Domenico in Italian was introduced to these traditions by his Nonno (grandfather), Domenico Giovinazzo. In the basement of their home was a wine press that Nonno showed Dominick; passing down from one generation to another the love of handcrafting wine.

Dominick's passion for winemaking took him from amateur competitions, while he lived on the East Coast, to commercial status after moving to Northern California. Moving to California has enabled Dominick to choose his grapes hands-on from selected vineyards in Napa Valley, Sonoma's Central Coast, Alexander Valley, Russian River Valley, Amador County and the Lodi District. Not to mention he is a member of the Santa Cruz Mountains Winegrowers Association, where he sources Chardonnay and Pinot Noir grapes. As of fall 2010, the wines of Domenico have won 300 Medals for wines produced from these various regions!

Prior to opening Domenico Wines, Dominick and Gloria's passion for the wine business was shared with others on both the East and West Coasts through Bacchus Winemaking Club. This membership club enabled many more people to create their own wines with custom labels. Over 200,000 cases of wine have been created by amateur winemakers on both the East and West Coasts through the years. See the website, www.bacchuswinemakingclub.com for more information on making your own wines.

Our recipe for success in the wine business is simple… take the finest grapes of California, add Dominick's passion, blend with family tradition, and you get wine that exudes complexity, finesse, and agreeability. We invite you to come by the winery to taste for yourself.

Cellar Door
Domenico's Tasting Room has an old world elegance and charm that you notice the moment you come through the doors. The aroma of wine aging in French oak barrels will make you feel as if you have been swept away to an Italian winemaking villa. Join them at our 24' foot mahogany bar to taste many of their handcrafted varietals. The friendly staff will be happy to pour you a taste while describing to you the many intricate flavors that come through in their Award-winning wines.


Wine Tasting Price
$5.00 - $10.00
Hours
Open Daily Noon - 5:00 pm
Enjoy Complimentary tastings once each month at this winery and many others by enrolling in the SignatureWines.com VIP program today!
Features & Ammenities

Map
User reviews
There are no user reviews for this listing.