Guglielmo Winery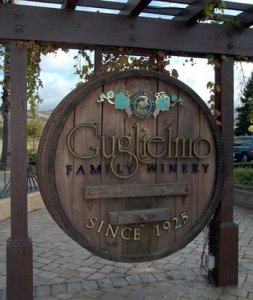 A Family Wine Making Tradition in the Santa Clara Valley Since 1925. Guglielmo Winery -- a third generation, family owned winery -- produces a wide variety of award-winning varietals from more than 100 acres of Santa Clara Valley estate vineyards, as well as from other premium wine-growing regions within California.
Today, Guglielmo Winery (gool-yell-mo) produces nearly 40,000 cases annually under three different labels, Guglielmo Private Reserve, TRÉ, and our oldest label, Emile's. Although the winery has grown, we still abide by the family philosophy to produce natural, quality wines to share with family and friends. The family continues to oversee every phase of the wine-making process.
"Wine is a traditional part of our culture and one of life's simple pleasures to be shared with family and friends."
Wines should be easy for everyone to enjoy at a reasonable price!" exclaims third generation winemaker, George Guglielmo.
Traditional and passionately classic
Tooling around Morgan Hill, California, in his classic and beautifully maintained 1957 cherry-red Chevy Camero pickup, George E. Guglielmo, is a well-known fixture around town. Often referred to as the "heart and soul of Gugliemo wines," George brings family, passion, wine-making, wine-growing, and technical training to a unique family heritage dating back to the early 1900's in the Santa Clara Valley. Guglielmo Winery has been producing award-winning wines since 1925. It has been in continuous operation and owned by the same family to the present day. In this day of mergers and acquisitions in the Silicon Valley, and in wine regions around California, few wineries can make this claim. Many may have been in operation as long or longer and have changed owners or operating companies.
Founded on the virtues of hard work, faithfulness and love
The Guglielmo Winery founded in 1925 by the family patriarch, Emilio Guglielmo and his bride, Emilia. Both emigrated from the famous Piedmont wine-growing region of northern Italy. Beginning in 1910, when they settled in the Santa Clara Valley, they worked -- Emilio in a tannery, and Emilia in a French laundry -- and saved their earnings. Eventually, by 1925, they had saved enough to purchase 15 acres in Morgan Hill. Situated at the southern end of "The Valley of the Hearts Delight," the Santa Clara Valley was a rich, up-and-coming land of bountiful agricultural production with a promising future. Emilio and Emilia were on their way as pioneering winegrowers and winemakers in this very rich landscape.
The family tradition continues to thrive
Arriving at the Guglielmo Winery, visitors discover themselves transported to another time and world. The winery is situated in the very fertile agricultural midst of residential and commercial development. The winery is easy to find. The grounds are creatively maintained in historic fashion, dating back to the time of the founding of the winery in the 1920's. Modern in infrastructure and historic in look and feel, the winery staff greets each visitor warmly. Guests feel as if they're a close friend or member of the Guglielmo family.
Rustic ambiance belies the technology
The up-to-date and state-of-the wine-making art that beats at the heart of the physical plant integrates with the old-world charm. The Guglielmo Winery provides a home for many other winemakers because Guglielmo offers custom crush capabilities for them. The winery blends the rich heritage of the past with the science and technology of the present.
Events are a centerpiece of family and winery culture -- visitors are always welcome. Guglielmo Winery features a newly installed event center called the Villa Emile Event Center. Artists and patrons enjoy an intimate musical venue amongst one of California's oldest family owned and operated wineries. The Villa Emile Event Center offers a wonderful venue for Weddings, receptions and other special private of all kinds are a regular occurrence -- as one would expect in a good Italian family atmosphere.The winery, still situated in the heart of the family estate vineyards, is a picturesque setting for picnics, winery and vineyard tours … and then there's the tasting room. During the holidays, the tasting room is transformed into a winter wonderland of lights and trees, and happy gift shopping, wine sipping neighbors, and newly found friends from all over the bay area and beyond. During the rest of the year, the tasting room is an oasis of classic congeniality, welcoming folks from all corners of the world with open arms, and open bottles of consistently award winning and crowd pleasing wines.
The winery tasting room and gift shop (jam-packed with one of the most fabulous selections wine-related gifts in the Santa Clara Valley) is open daily from 10 a.m. until 5 p.m. and closed for major holidays.
Wine Tasting Price
$5.00
Hours
Every Day 10:00 AM to 5:00 PM Closed major holidays.
Enjoy Complimentary tastings once each month at this winery and many others by enrolling in the SignatureWines.com VIP program today!
Features & Ammenities

User reviews
There are no user reviews for this listing.