Sonoma Coast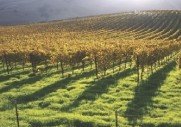 783 Broadway
Sonoma, CA 95476

The breathtakingly beautiful Sonoma Valley, also known as the Valley of the Moon, is the closest wine region to San Francisco, just 45 minutes north, and the birthplace of California's premium wine industry. It is a region with a rich legacy in the history of our country, as well as an ideal travel destination for any season or a stay of any length. Sonoma Valley offers a cornucopia of stories about wine, food, agriculture, and the fascinating and passionate individuals who live here and are producing some of the best wines in the world.
Sonoma Valley is a wine-growing region, a culinary capital, a historic treasure, a natural wonder—and a state of mind. It's an ideal destination for any season, for a weekend or a week, or as your headquarters for an extended stay in the San Francisco Bay Area.

From stately and historic chateaus to rustic country barns, wineries in Sonoma Valley reflect the spirit of freedom and individual enterprise that exists here. As diverse as the makeup of the soils and the microclimates themselves, each wine grower has found a unique way of coaxing the environment to yield the finest in flavors and styles of wines.

Long a culinary destination, Sonoma Valley today offers numerous dining choices, from casual bakeries and cafés to acclaimed chef-owned restaurants. Much of what you'll find on the table is grown right here. In addition to fine wine, Sonoma Valley is known for its abundant produce and artisan breads, cheeses, and olive oils, available year-round at local shops, roadside stands, and weekly farmers' markets.

Sonoma Valley offers an infinite variety of lodging, dining, and touring choices that will make your stay truly relaxing and enjoyable. Regardless of what your passion might be— painting and sculpture, live music, literary readings, theater, movies, racecars, hiking, or golf—you'll find plenty to do in Sonoma Valley all year round.

Wherever you go, you will find that when you visit Sonoma Valley, you are welcomed into the community. Discover your own special places and people and, like the early pioneers, find new pathways to experience the riches it has to offer.
Map
User reviews
There are no user reviews for this listing.