Hotels
Holiday Inn Express Livermore
Holiday Inn Express Livermore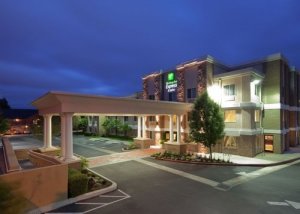 Nestled in the heart of California wine country, our hotel's smoke-free facilities are perfect for a business meeting or weekend getaway. The Holiday Inn Express® Hotel & Suites Livermore is situated along I-580, making moving through the valley very easy.
Are you here on a business trip? Because of the hotel's location in Livermore, CA, corporate guests can easily get to destinations like the Lawrence Livermore National Labs, Sandia National Labs, Oracle and Providian. If you need to host a business meeting in the area, the 625-sq-ft meeting room has seating for up to 50 people. We even offer free high-speed, Wi-Fi access and a 24-hour Business Center for your convenience.
There's more than just outstanding wine here in California wine country. Our hotel's patrons can also see live performances at the Bankhead Theater or check out the excitement of the Livermore Rodeo. Golfing abounds in the valley, so be sure to bring your A-game. And there's great shopping at the Stoneridge Shopping Center, just eight miles from the hotel.
We've set the bar for great services and modern amenities. Guests can relax in the outdoor pool or work up a sweat in the well-equipped Fitness Center. Every morning, a hot, complimentary, mouth-watering breakfast awaits you. Be sure to explore our great online packages. Book your visit to California's wine country; our hotel's staff is ready to welcome you!
Features
Our hotel's East Bay area location isn't our only great perk. Come experience our hospitality at the Manager's Reception Monday through Thursday evenings with complimentary beer, wine and appetizers.
Map
User reviews
There are no user reviews for this listing.