Wine Cask Restaurant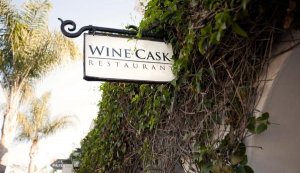 multiple ambiance experience, superb service n selectio of fine wines and gourmet meals
819 Anacapa Street
Santa Barbara, CA 93101
(805) 966-9463
winecask.com/
Doug Margerum and Mitchell Sjerven's Wine Cask, located in downtown Santa Barbara in the historic El Paseo complex, offers the best of all worlds to enjoy a delicious lunch or dinner in a stylishly relaxed setting. Their passion is great food, the highest caliber of service and bringing back the comfort and nostalgia of one of Santa Barbara's favorite restaurants. Indulge in great foods featuring the freshest local ingredients and select from the best wine list in town, not to mention signature cocktails that change regularly. Whether you're looking for a casual drink and shared plates al fresco on the patio lounge or nestled up in front of the fireplace, or feel like a lively dinner in the main room, you'll find what you're craving at the Wine Cask.

Wine Cask is a locally owned, multi-faceted restaurant with an iconic reputation as Santa Barbara's culinary and wine landmark. It's food and wine central for aficionados; a full sensory experience from the historic setting the restaurant occupies to the innovative cuisine balanced with the warmth of personal service. Wine Cask Chefs shop at the farmer's market every week and feature local seafood, produce and wines in support of Santa Barbara industry.
Repositioned and reinvented to meet the modern-diner movement, the Wine Cask concept consists of several elegant spaces, all offering a different ambiance and experience.
The 'Gold Room,' our main dining room, offers an up-scale yet approachable lunch and dinner experience famous for its majestic oversized fireplace and its historic vaulted wood beam ceiling adorned with gold leaf. The 'Margerum Wine Tasting Room' is branded after the original and now current co- owner and wine maker, offering a dual use space as a tasting room and event venue. 'The Riviera Room' is a private banquet/dining room that is sophisticated in nature with the ability to accommodate mid-sized events or groups. Intermezzo is the colloquial 'bar/café' of Wine Cask, a favorite after work and evening haunt for locals and a comfortable, quaint place to sit by the fireplace and enjoy fine wines and flat breads with friends before a show. Lastly, the courtyard between the Gold Room and Intermezzo, delicately draped with whimsical, retractable sails high above the space, offers an al fresco experience. We are delighted to provide the same exceptional cuisine and service for private and group dining that you would expect as a table for two.

Wine Cask has personality, soul, deep community roots and is a full sensory experience. Staff carry themselves with personal and professional pride, and offer the highest standards of guest service.

Our Mission Statement: to surpass guest's expectations for service, food and wine in an inviting setting, such that every customer who comes through our doors leaves impressed by Wine Cask and excited to return again tomorrow and thereafter.
Map
User reviews
There are no user reviews for this listing.