Double Barrel Wine Bar
kristin@doublebarrelwinebar
August 13, 2012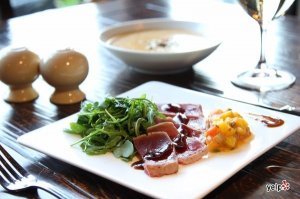 Award-winning artisan wine and tapas bar featuring 50+ global, regional and local wines with daily LIVE music. Private events, winemaker's dinners and catering.
2086 First Street
Livermore, CA 94550
(925) 243-9463
www.doublebarrelwinebar.com/
The Double Barrel Wine bar offers dish after delicious dish that complement a California and international wine list at this decidedly grown-up Livermore Valley hangout. A convivial spirit reigns within the intimate lounge, filled with long communal tables, and a cozy—often crowded—backyard patio pulses with live music. The spicy atmosphere, along with the selection of seasonal Latin tapas, calls for crisp and lush wines. (Find a favorite among the flights of worldly whites and reds.) Plump paellas, chorizo-flecked quesadillas, bacon-wrapped dates, and deadly sweet potato fries are rich and satiating. Most glasses and small plates run in the $10 range. Happy Hour Tues - Fri 4-6, dinner Tues.–Sat. Sunday Brunch 11-3, Lunch Sat-Sun.
User reviews
Rustic Sophistication
Stopped in and fell in love! Happened to be in Livermore one evening and wanted to try something new. As soon as I entered, I was invited to be a part of the Double Barrel family. All of the staff were warm, welcoming and very knowledgeable of their wine list. Since it had been a very strenuous day at work and I didn't really want to make too many more decisions, I told my server I preferred red wine and wanted something a bit more substantial than an appetizer but not too heavy for a early evening meal. She inquired about my tastes and recommended the 2010 Calera Pinot Noir paired with the Chicken Salad Flatbread. It was a winning combination that enticed me to linger and fully experience all that Double Barrel had to offer. From bar to backyard patio and live music, I will definitely return when in the area!
Would you return and/or recommend to a friend?
Yes
Was this review helpful to you?
Wish I lived closer!
What can I say, I LOVED this place! I don't get out to Livermore often but I found myself there over the Labor Day weekend and stopped in for a glass of wine and some small plates.
I liked everything I experienced there - the staff was super knowledgeable and friendly, the wine flight was fun and interesting, the food was solid and the ambiance was a lovely blend of relaxed sophistication.
I definitely will be back!
Would you return and/or recommend to a friend?
Yes
Was this review helpful to you?