Cuda Ridge Winery
Larry Dino
April 18, 2012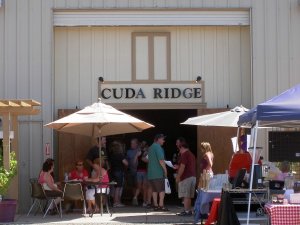 Founded by Larry & Margie Dino, Cuda Ridge Wines produces Bordeaux style wines that bring out the wonderful terroir of Livermore Valley.
Cuda Ridge, one of the newer wineries in Livermore Valley, is the dream of owners Larry and Margie Dino. This small boutique winery has been producing some great Bordeaux style wines for several years sourcing grapes from the premier vineyards of Livermore Valley. The wines are handcrafted, produced in small lots and primarily aged in French Oak barrels.
A visit to Cuda Ridge Winery is a step into the country. In fact, the Cuda Ridge tasting room is a converted barn on the east side of Livermore near Lawrence Livermore National Laboratories. Larry and Margie called upon family and friends to convert the drafty barn into an air-conditioned working winery and cellar. After many weekends installing insulation, sheet rock and lowering the ceiling, the building was ready for the move. The tasting room is at the front of the winery with the rest of the winery behind it, allowing the visitor to view the equipment, barrels and cases normally hidden in other wineries. You will usually find Larry or Margie there to greet you and tell you about their wines. You may stand at the bar, sit at one of the tables inside, or, if the weather is nice, sit outside and watch the horses in the corral to the west or admire the vineyards to the east. And, not to worry, Margie or Larry will remember to check on you to insure you get to try their award-winning wines, including their 2008 Cabernet Franc that just recently got 90 points from Wine Enthusiast.
When visiting Cuda Ridge you will often end up in conversation with the other visitors. Larry and Margie always make you feel at home with visitors soon engaged in conversation as if they were friends at a dinner party.
Off to the side is the Cuda Cavern, a room set aside for special tastings, wine club parties, blending presentations and other events. Most weekends during the summer you will find Cuda Ridge the place to be. Sometimes it is car shows when friends bring by their muscle cars and Larry shows off his prized purple Cuda. Other weekends local musicians will be providing the music while Cuda Ridge provides the wine and food.
The genesis of Cuda Ridge, and its name, ties closely with recent Dino family history. Their first wine, in 1989, was made in the garage of their Fremont home, from grapes grown in the Healdsburg area by parents of a friend of Margie. As their winemaking skill improved, they began looking for a larger place closer to wine country. Their first attempt to purchase property, in Sonoma in 1999, failed. Although they came away from that encounter without land, they purchased instead a 1970 Barracuda "muscle car" — familiarly known as a 'Cuda. It is from this car that the present company has taken its name. The purple of the handsome auto, present for admiration in the tasting area on opening day, carries through with the purple of the company shirt and on the stylized image of a Barracuda that forms the company logo.
The Dinos moved to Livermore in 2003, where they continued their winemaking in the garage of their home off Almond Avenue, while Larry commuted by BART to a computer-software job in San Francisco. Encouraged by the many friends with whom they shared their wines, they chose to become a commercial winery less than four years ago. The present locale is the result of that decision. They were bonded in 2007 and moved into their present location in May 2008.
Wines available from Cuda Ridge include Sauvignon Blanc, Semillon, Cabernet Franc, Cabernet Sauvignon, Merlot, Malbec, Petit Verdot and Amis, a port style dessert wine that is a blend of Petite Sirah with some Portuguese varietals Tinto Cao and Souzao. Cuda Ridge is open Friday through Sunday, noon to 4:30 p.m. and they are located at 5385 East Avenue in Livermore.
User reviews
There are no user reviews for this listing.