Mizu Sushi Bar & Grill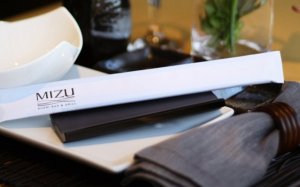 Upscale, hip ambience, excellent sushi, classic Korean food.
1035 S. Winchester Blvd.
San Jose, CA 95128
(408) 260-7200
www.mizusj.com
Mizu is about a mile south of Santana Row on Winchester Boulevard at Williams. You'll find some of the best sushi in the Bay Area, excellent service, a small but classic menu of Korean dishes, and a cocktail bar with imaginative bartenders and a variety of beer, wine and sake offerings.
Mizu is a modern sushi and Korean food restaurant. It has a classic sushi bar at the far end of open table seating, and a cocktail bar near the front. Valet parking is available, but optional since the restaurant shares a large parking area with other businesses.
The sushi bar is staffed with experienced sushi chefs and I enjoy watching them craft their beautiful and tasty creations. The big screen television behind the sushi bar keeps the sports fans happy.
But it's the food that keeps me coming back.
I love sushi and I may have tried every one of the sushi and sashimi dishes Mizu offers. But when I want to treat myself, I single out a sushi chef at the bar and ask him to surprise me with a selection of his favorites.
That's how I got introduced to many sushi dishes that I wouldn't have considered trying before. Some of them have become favorites now. Mirugai, or Giant Clam for it's slightly chewy texture and slightly mineral flavor and it's opposite - Hamachi, or Yellowtail for it's delicate, buttery texture and a flavor that's a little more like meat than fish.
There is also a generous selection of rolls. I like the Super Godzilla Roll! Rawwwr!
If you like Korean food you find Bulgogi and Galbi along with a selection of Japanese Teriaki dishes.
If you want a bit of excitement, head to the bar and look over the selection of cocktails, beers and wines. The wine list shows a choice of quality over quantity. If you're a fan a sake, you'll love the filtered and unfiltered styles available cold or hot.
The bartenders have a few tricks up their sleeves, so ask them about their creative cocktails (buttered popcorn!)
Mizu is a great place to bring a date, or small gathering of friends. I wouldn't consider it a child-friendly venue - unless that child is a fan of sashimi like my son has been since the age of eight.
Excellent food and drink, attentive service, modern atmosphere - I've never had a bad experience at Mizu. The price? Worth every penny.
Map
User reviews
Mizu Sushi Bar & Grill
It's one of my favorite places to eat and drink. I recommend it to friends all the time.
Would you return and/or recommend to a friend?
Yes
Noise level during your visit?
Moderate
Was this review helpful to you?