La Bodeguita del Medio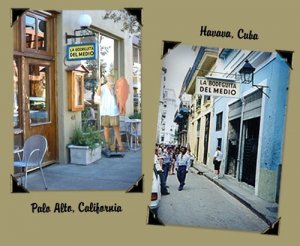 Known for their Cuban-inspired cuisine.
463 S. California Avenue
Palo Alto, CA 94306
650.326.7762
www.labodeguita.com
A taste of Hemingway's Havana in the heart of Palo Alto!
Havana's La Bodeguita del Medio has long been known as a wonderful gathering place for cocktails, cigars, and the local cuisine. The Palo Alto location opened in 1997.
La Bodeguita's location at 463 California Avenue in Palo Alto is halfway down the first block. Our restaurant brings to Palo Alto the unique, friendly ambiance of its Havana namesake with tropical atmosphere, fresh seafood, Cuban specialties, rum cocktails, and cigars. Complementing the cuisine is a collection of original Cuban artwork which creates an environment that's as uniquely friendly as any bar in Havana.
Map
User reviews
Small plates with complex flavors keep me coming back for more!
Do you love small plates and complex flavor combinations with a touch of heat? Then La Bodeguita del Medio is for YOU! I stopped by the first time to try their famous Mojito (definitely worth the visit), but I keep coming back for their tasty Cuban small plates that intrigue and inspire me. The wine list is solid, I can't help but love a place that pours a red and a white Navarro, and the house-made sangria is yummy. The sights, sounds, tastes and smells of La Bodeguita will delight your senses and if you so desire, you can finish the night with a cigar in their cigar bar at the rear of the restaurant.
Would you return and/or recommend to a friend?
Yes
Noise level during your visit?
Moderate
Was this review helpful to you?