Big Dog Vineyard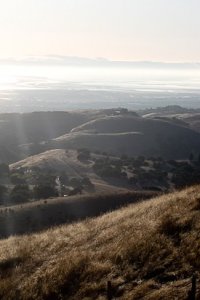 Known for their expansive bay area views, delicious wines and engaging winemaker, owner and staff!
4545 Felter Road
Milpitas, CA 95035
(408) 935-9194
www.bigdogvineyards.com
Adventure awaits you just on the other side of Silicon Valley. Did you know that you can take a trip back in time to the days when Silicon Valley was known all over the world as the Valley of Heart's delight? Well, it's true. Be prepared to leave the tensions of the valley behind as you embark on the time-trip beginning on your ascent up Calaveras Road.
Don't forget your camera; you may want to capture images of the equestrians exploring the bucolic horse ranches alongside the road or the wild life coursing through the oak trees of Ed R. Levin County Park. The temptation to follow Calaveras further into the backcountry of Santa Clara Valley might be mesmerizing, so don't go too far or you'll miss the right hand turn off onto Felter Road. Felter Road will offer you some of the loveliest vistas of Santa Clara Valley. As you drive upward, keep your eyes open for the sign on the left side of the road, guiding you to Big Dog Vineyards. As you round the bend, you will spot the acres of vineyards climbing the hillside above a beautiful home. You have arrived. Welcome to Big Dog Vineyards and you have discovered the passion of your hosts and vintners, Mark and Sandy Capalongan.
The Capalongans wish was to leave the city and take up country living. Other local winemakers familiar with the terroir encouraged the Capalongans to consider planting grapes on his hillside. Terrior is a French term in wine, coffee and tea used to denote the special characteristics that the geography, geography and climate of a certain place bestow upon particular varieties. After consulting with UC Davis and learning that the rocky, limestone, warm and dry and well drained soil is reminiscent of vineyards of the finest Cabernet Sauvignon producing regions in Europe, and was more than ideal to produce grapes with an intensity of flavors for robust, delicious wines, the Capalongans put 5 acres under vine. And so it came to pass that Big Dog Vineyards was born as a Labor of Love for maintaining and protecting the vineyards from the harsh climate and local fauna demands a great deal of consistent love, sweat and tears to bring forth the luscious fruit that Mark Capalongan, Big Dog Vineyards winemaker, applies his artisanal skills.
The result: A world class yet-to-be discovered Estate Cabernet Sauvignon and Cabernet Franc. In addition to tasting these varietals, Mark has crafted Zinfandel from Paso Robles, Chardonnay and Merlot from the Santa Cruz mountains, Syrah from Dry Creek Valley. A dessert wine produced in a port style, is also available. Ask about the Big Dog Vineyards biggest secret, their two kinds of Grappa. If you are lucky you might be able to purchase a few bottles of Grappa before they sell out.
The name "Big Dog" was bestowed upon their vineyard to honor the memory of their dear but departed St. Bernard, now replaced by a Great Dane puppy growing into his giant paws.
The tasting room is open the first weekend of every month and your hosts, the Capalongan's, accompanied by their friends, will make room for you in their winery or on the outside patio where you can relax and savor their carefully handcrafted wines. (Your well-behaved dog is welcome on the outside patio, too.)
Before you leave, take some time to admire the view from this winery upon the ridge overlooking both the Silicon Valley and the San Francisco Bay. Learn first hand, why so many awards have already been bestowed upon Big Dog Vineyards while you watch the sun set behind the Santa Cruz Mountain range showering the Bay in golden rays of light as the millions of lights of the valley below twinkle on the valley below and the stars twinkle above. Altogether a lovely escape from the city life into a more relaxed atmosphere of days gone by.
Wine Tasting Price
$0.00 - $0.00
Wine Tasting Price
$0.00 - $0.00
Features & Ammenities

Map
Editor reviews
Big Dog Vineyards feature big views and big wines
This Winery offers some of the best views of the San Francisco bay!. Sunsets are surreal. Now combine that with a passionate husband and wife vintner team, and you get a fun, memorable time to share with your friends. The wines are delicious and for those of you that have a passion for grappa, you will be rewarded. This winery is open the first weekend of each month, so mark your calendar and make some plans to visit this unique winery.
Would you return and/or recommend to a friend?
Yes
Did you purchase any wine?
Yes
Did you join their wine club?
Not applicable
Was this review helpful to you?
User reviews
Visit to buy wine
A couple weeks ago, on the way to visit friends, my wife and I stopped by the tasting room to buy some wine. Mark was there and spent about 30 minutes showing us around and telling of his new upcoming Syrah. We'd had their wines before and they do not fail to impress. Friends loved the Chardonnay and I find their Ports a personal favorite.
I look forward to returning soon.
Would you return and/or recommend to a friend?
Yes
Did you purchase any wine?
Yes
Did you join their wine club?
No
Was this review helpful to you?