Hampton Inn Livermore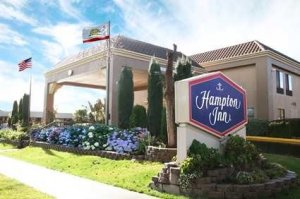 A mild Pacific breeze blows down from the San Francisco Bay Hills and whistles through the vineyards of California's oldest wineries. The Hampton Inn® Livermore puts you in the middle of this postcard-perfect scene in the heart of California's wine country.
Visit the Hampton Inn Livermore-East Bay and search out the perfect Petite Syrah in the wineries along central California coastline. Toast the history and authentic western culture of Livermore as you visit the Livermore History Center and begin your walking tour of downtown Livermore. Bike the trails along the Arroyo Mocho waterway or hike the tour-caliber golf courses Wente Livermore and Poppy Ridge Livermore; both just minutes from the Hampton Inn Livermore.

A short and scenic drive from Livermore through the hills will take you past Oakland and on to San Francisco's must-see attractions, including the Golden Gate Bridge, Alcatraz, Chinatown and Fisherman's Wharf. Back in Livermore, pack a picnic and spend a day at Sycamore Park and end the day with a sunset tour of Wente Vineyards in Livermore, just one of the many vineyards of Livermore; Livermore provides a breathtaking gateway to the San Francisco Bay area, located less than an hour from our hotel.
Services & Amenities
Here at the Hampton Inn Livermore, we're passionate about taking good care of you. That's why we offer a broad range of services and amenities to make your stay exceptional.

Whether you're planning a corporate meeting or need accommodations for a family reunion or your child's sporting group, we're delighted to offer you easy planning and booking tools to make the process quick and organized.
Map
User reviews
There are no user reviews for this listing.