Livermore Valley
livermorewinecountry
April 10, 2012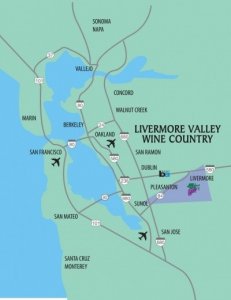 Livermore Valley, one of California's oldest wine growing regions, is rich with history. With great wineries and fun places to visit and dine, if you live in the Bay Area, you may not realize what's in your own backyard!
The Livermore Valley AVA is an American Viticultural Area in Alameda County, California, surrounding the city of Livermore in the Tri-Valley region. Both the AVA and the city are named after Robert Livermore, a landowner whose holdings encompassed the valley. The groundwater basin underlying the valley is the Livermore Basin.
Location
In the San Francisco Bay appellation, 30 miles east of San Francisco. Both the Livermore Valley and San Francisco Bay appellations are within the larger Central Coast appellation.
Appellation
Livermore Valley boasts one of the original U.S. appellations granted by the BATF way back in October, 1982. This designation was largely based on the unique, gravel-based soils and the marine winds that are drawn into the valley every afternoon from San Francisco Bay.
Geography
The Livermore Valley has an east-west orientation, making it unique among northern California winegrowing regions. It is 15 miles long (east to west), 10 miles wide (north to south), and surrounded by coastal range mountains and foothills.
Climate
The east-west orientation of the valley allows the coastal fog and marine breezes to come in from the Pacific Ocean and the San Francisco Bay and cool the valley's warm air, resulting in warm days and cool nights ideal conditions for producing fully-ripened, balanced fruit.
Soil
Primarily gravel with excellent drainage, a soil type that reduces the vines' vigor and increases flavor concentration in the grapes.
User reviews
There are no user reviews for this listing.