Manzoni Estate Vineyards
mevwines
November 12, 2012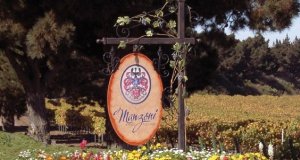 Beatiful hand crafted small lot rhone veritals
30981 River Road
Soledad, CA 93960
(831) 675-3398
www.manzoniwines.com/
The Manzoni Story:
"From the start, our business has been family-owned and family-run. Our grand vision is to distinguish ourselves with perfection through limited production," says Mark Manzoni"It is this dedication that gives us distinction in a rapidly expanding industry – dedication to standards of hard work, integrity, and uncompromising quality creates wines worthy of our customers tastes."
Fine winemaking is both an art and a passion, but also requires an understanding of the science of alchemy. The Manzoni family relies on the idea of terroir. This is the time-honored method of combining soil, slope, sun exposure, with a nod to the gods of weather that let the grape varieties show their unique characteristics.
They have chosen to grow grapes on California's cool coastal mountains, ridges, and hillsides and benchlands.
Here, they strive to give you the richest, most intense flavors with a unique and memorable character. Mark Mazoni states, "We believe that our family philosophy and our beliefs in vineyard methods, along with our dedication to perfecting our winemaking skills, result in amazing wines that you will find consistently intense, complex and palate pleasing."
Manzoni Family Wine making History
In 1921, Joseph Manzoni left his home in Switzerland to come to the United States. In the 1930's he found himself in the Salinas Valley along with many other Swiss descendents. What initially started as a dairy business evolved into cash crop farming which the family still continues.
Among the many Old World traditions brought over from the homeland was the making of wine and Grappa. He introduced this to his workers, friends, and his own family. This proud tradition grew into what is now the Manzoni Estate Vineyard founded by his son Louie Manzoni, and his grandsons, Mark and Michael Manzoni.
The business, as it is today, began in 1990 when the family converted six acres of land to vine rootstock. In 1999, with the planting of imported clones, the Manzoni Family turned their family tradition into a full-time passion.
The Manzoni Estate Vineyard takes great pride in presenting you with wine from the finest quality grapes. They believe that their stewardship of the land, their purposefully small yields, and their detailed attention to every aspect of production results in a more flavorful, better tasting selection to grace your table.
Mark Mazoni says, "Since 1999, we have worked to become a wine name of discretion. We continue to grow grapes in the Santa Lucia Highlands of Monterey County and work diligently to evolve our practices and to increase the quality of our wines."
Visit the Highlands
Tucked away in Monterey County, you'll find a vintner's dream. The Monterey region is a land of coastal mountains, fertile valleys and cool maritime breezes that contain rocky, alluvial soil. Here, the powerful combination of soil, elevation and climate, have all contributed to give each vintage its own powerful style.
The cool, foggy mornings and evenings, as well as reliable afternoon sunshine, combined with a long growing season, give our grapes the extra hang-time on the vine needed to develop the apple and pear tastes of our Chardonnay, the black cherry tastes of our Pinot Noir, the spicy blackberry notes of our Syrah and the creamy textures so distinct to this growing region.
The Manzoni vineyard currently consists of three different Pinot Noir clones covering 5 acres, including Dijon 777 and 115, and a special clone locally referred to as LaTache. Syrah clones Estrella and 470 cover the remaining one acre.
In many vineyards, high yields are the standard. The Manzoni Estate Vineyard strives, instead, for low yield – just three to four tons per acre. The crop is thinned by hand during the ripening process dropping the green fruit and small clusters. This meticulous process assures that the fruit is properly ripened. Superior harvest standards, relying on hand labor and hand selection of grapes, assures you that each wine you purchase is a premium vintage made from only the finest fruit.
Further, each vintage represents our finest efforts in winemaking. The Manzoni Family is dedicated to creating wines that are a beautiful addition to your cellar.
"We hope you enjoy tasting them as much as we enjoyed making them. Please come and visit our Estate vineyard."
-Mark Manzoni

River Road
We're located on the beautiful River Road Wine Trail with wonderful views of the Santa Lucia Highlands. We hope to see you here soon!

Hours
Saturday & Sunday 11am - 5pm
Carmel

Manzoni Vineyards is pleased to announce that we have opened Manzoni Cellars, a new tasting room in Carmel on San Carlos between Ocean and 7th in the Paseo Courtyard.

Hours
Daily 11am - 7pm
Enjoy Complimentary tastings once each month at this winery and many others by enrolling in the SignatureWines.com VIP program today!
Features & Ammenities

Map
User reviews
There are no user reviews for this listing.