Occasio Winery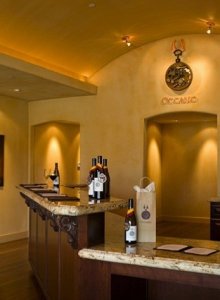 the science and art of winemaking
2245 B South Vasco Road
Livermore, CA 94550
(925) 371-1987
www.occasiowinery.com
Descendants of fifteen generations of farmers, owner, winemaker and student of Livermore Valley History John Kinney and his family have always been aware of the fleeting nature of opportunity. Beginning in school when his debate teacher introduced him to the Latin phrase Occasio aegre offertur, facile amittitur, John realized those were the words to live by – to know that the right moment comes along rarely and is easily lost.
It is this attention to timeliness confronting both winegrower and maker that determines every event in the winemaking process, from the perfect harvest to the calculated release of a finished wine. Our principles are guided by this ancient mantra, which allows each wine to express its own most perfect nature.
Tick tock, tick tock – time is extremely important in the crafting of fine wine. Winemakers must pick the grapes at the right time to achieve the ripeness desired, ferment them just the right amount of time to extract those flavors and age the wine in fine oak barrels for just the right time to achieve perfection in aromas, flavors and texture. Winemaker John Kinney first learned in school the Latin phrase Occasio aegre offertur, facile amittitur, "Opportunity is offered with difficulty, lost with ease". This has become his mantra in achieving that elusive perfection of timing and capturing that opportunity, resulting in a great wine.
Walk into the Occasio Winery tasting room at 2245B South Vasco Road and you will admire the warmth of the room with rich woodwork, exquisite granite bar and the Occasio timepiece logo mounted on the wall. This artwork designed by John's son depicts the images of time through the workings of an antique timepiece. This same image is found on every bottle of Occasio wine. Across the room, displayed on fine crafted oak shelves you will spy a selection of wine wares for sale. John Kinney and Occasio are one of the first members of Slow Food in the area and the tasting room products are U.S. Ark of Taste endorsed. They also work with local artisans to feature their products in the tasting room.
At the tasting bar your wine specialist will walk you through a flight of Occasio wines. Notice that, for your convenience and future reference, Occasio Winery offers detailed tasting notes and specifications for all of their wines. Behind the bar you can peek into the oak paneled Library Room, where they can accommodate small parties who wish to discuss the wines in detail with the winemaker. Occasio will soon be introducing special Reserve Flight tastings in the Library Room.
Winemaker John Kinney is often at the winery, hosting special tours and tastings in the winery cellar in back. Often you will find a small group of people standing around a barrel while John instructs them about a specific factor in winemaking, or the special qualities of a specific varietal, or even the history of certain aspects of winemaking. He has a passion for his craft coupled with a tremendous thirst for knowledge that ties back to his family background in farming and his current position as a biotechnology professor at UC San Francisco.
To know Occasio Wines means to know John Kinney. He believes strongly in terroir driven wines, wines that depict their locale, Livermore Valley. He starts with all hand harvested grapes from a selected group of established growers who share his passion for Livermore quality. He has personally designed his winery to treat these grapes gently, including a custom designed pumpover process that requires a minimal amount of crushing. Polymer drums are used rather than steel, and the drums are mounted on stilts to achieve a gravity flow for processing rather than harsh pumping techniques.
Wine grapes have been grown in Livermore Valley for over 150 years. Studying old reviews and texts, John has learned much about what Livermore Valley fruit can deliver, with deep dark stable colors, pronounced minerality and firm tannins. He states that Occasio allows the wine lover to, "experience true Livermore quality with wines as close as ever to the essence of the valley."
Stop by Occasio Winery to visit one of the newer Livermore Valley wineries that allow you to taste wines that depict the oldest character of wine from the valley. They are open Friday – Sunday, 12 – 5 p.m.

Occasio Winery
Occasio Winery sits discretely at the entrance to the historically important Livermore Valley Wine Country. Our family invites you to experience our boutique winery and tasting room and sample our latest releases, or relax and enjoy a glass of wine at one of our bistro tables in the shade of our giant tree.

Hours
Friday-Sunday 12-5pm, or by appointment
Enjoy Complimentary tastings once each month at this winery and many others by enrolling in the SignatureWines.com VIP program today!
Map
User reviews
There are no user reviews for this listing.