Marriott Pleasanton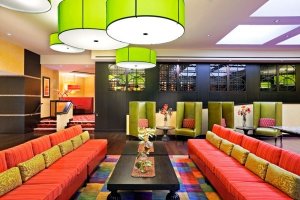 When you stay at the Marriott Pleasanton we want you to have all the comforts of home. Our cozy beds are covered in the finest linens with down/feather pillows or foam pillows. If you have extra guests staying in your room we can provide a crib or rollaway bed. The temperature of the room is up to you. With individual climate control and air conditioning, you can determine what's most comfortable for you.
The newly renovated Pleasanton combines the trendy lifestyle of Silicon Valley with the lower key feel of the East Bay wine country. We have created a hotel that caters to the demands of our high tech business guests as well as our vacationers. The Marriott Pleasanton is a non-smoking hotel that offers luxurious rooms that combine comfort and convenience. We provide wonderful entertainment and refreshment amenities as well as some great business amenities. The new lobby offers guests a great place to gather, enjoy great food and beverages and take care of business. We have a business center that provides all the latest technology right at your fingertips. If you want a great workout you can visit our exercise facility or take a dive in our beautiful outdoor swimming pool.
Map
User reviews
A Great place to stay when visiting the Livermore Valley Wine Country
This wonderfully decorated hotel features great service and amenities. The rooms are spacious, clean and comfortable. The service is attentive and helpful.
Was this review helpful to you?