Seagrass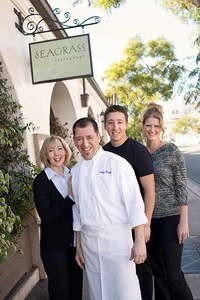 Known for their really fresh seafood, classic california cuisine and family hospitality.
30 East Ortega Street
Santa Barbara, CA 93101
(805) 618-1136
www.seagrassrestaurant.com
Seagrass offers a fresh Santa Barbara Coastal Cuisine fine dining experience. They believe our 'coastal' living experience is deserving of celebration. We care deeply about procuring the highest quality ingredients available and are fortunate to have access to superior local bounty. Sonoma Lamb, Farmers Market produce and Santa Barbara Spiny Lobster are just a few of the treasures that make their 'coastal cuisine' special.
Map
User reviews
Seagrass
The food here is fresh and delicious. Good flavors and excellent wine selection.
Would you return and/or recommend to a friend?
Yes
Noise level during your visit?
Moderate
Was this review helpful to you?