Cascal Restaurant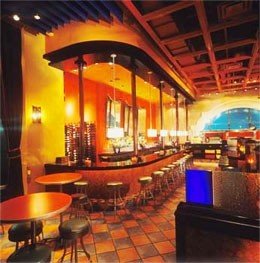 Authentic Latin American Cuisine featuring Tapas and vibrant atmosphere
400 Castro Street
Mountain View, CA 94041
650-940-9500
www.cascalrestaurant.com
Old World taste meets New World appeal at Cascal. This vibrant restaurant concept brings the traditions of Spain, with its savory flavors and warm hospitality, together with the exotic culture of Latin America--the land of sexy cocktails, music, and epicurean delights.
Creator Don Durante, whose past successes include the award winning Le Mouton Noir, and the Silicon Valley icon, Birk's, wanted to create a restaurant where he himself would enjoy spending an evening lingering with friends over exotic cocktails and enticing foods with bold flavors and personality.

The idea of Cascal came to him some time ago while tasting many of the dishes the kitchen staff of his various restaurants would cook for themselves. These authentic tastes inspired the "Tapa" style menu of small bites and communal sharing. The idea was nurtured during a brief retirement and after the perfect location was found, Cascal became a reality.
Map
Editor reviews
Amazing Lating American Cuisine and Cocktails
Congratulations Don. It is not often that a restauranteur's visions translates into reality so wonderfully well. This restaurant located in the heart of Mountain View, California offers their guests a vibrant, warm and friendly atmosphere to relax and enjoy. The decor is wonderfully designed and I felt transported to another place without having to use my passport.

Reminiscing about my recent meals brings a natural smile to my face. When I think about Cascal I visualize the many wonderful meals and memories I have shared with friends and family. I believe you will feel the same way too!. Please feel free to leave your own reviews!
Would you return and/or recommend to a friend?
Yes
Noise level during your visit?
Bustling
Was this review helpful to you?
User reviews
There are no user reviews for this listing.