Rocky Point Restaurant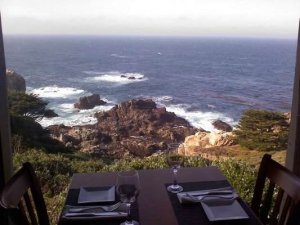 Rocky Point Restaurant is located 10 miles south of Carmel, a mere fifteen-minute scenic drive, on 36700 Highway 1, between Carmel and Big Sur, offering spectacular views of the sea and shore from all window tables. Enjoy breakfast or lunch on the ocean terrace or in the lounge, or have a romantic candlelight dinner while the sun is setting over the Pacific Ocean. After sunset, powerful floodlights illuminate the rocks and shore.
Map
User reviews
A good meal with a world class view
On a recent weekend we headed down the coast to spend the day in and around Carmel celebrating a birthday. Top on the list was a drive to Big Sur to enjoy a meal and the spectacular views and Rocky Point fit the bill.
The views were truly spectacular and the meal was good. We found our time at Rocky Point highly enjoyable and rather restorative. We definitely will be back!

Would you return and/or recommend to a friend?
Yes
Noise level during your visit?
Moderate
Was this review helpful to you?